Mrs. Hamilton's Kindergarten Class - Let's Learn Site - features tips for parents, songs for kids and videos of many of the activities we have shared this school year.
https://sites.google.com/view/mrs-hamiltons-classroom-lets-l/home
Virtual Tour of Kindergarten!
Kindergarten Wish List Link:
https://www.amazon.com/hz/wishlist/ls/1MXHNDVMVACPU?ref_=wl_share
Kindergarten School Supply List for Fall 2021 Link:
https://drive.google.com/file/d/1KMMqddnpY1CbBfSFUm-pCS4-jGS2hRRh/view?usp=sharing
Special's Schedule:
Mondays - Gym and Library
Tuesdays - Spanish or Art
Wednesdays - Spanish or Art and ½ go to music
Thursdays - ½ go to music
Fridays - gym
Check Out All of the Wonderful Experiences We Have Shared In Kindergarten 2021/2021!
https://sites.google.com/view/nativityofmaryschool-kindergar/home
Weekly Newsletter – Weeks of May 31st and June 6th
Hi Parents,
It's practically June! I cannot believe we only have 8 school days remaining! We'll be busy these next 8 days preparing for our upcoming graduation ceremony and tying up all the loose ends from this year. Mr. Paul and I are enjoying every last moment with these beautiful children. We are so proud of how far they have come from when they first walked into kindergarten. It is truly amazing…we wish it wasn't going to end!
This Friday we will celebrate reading 100++++ books! Children may wear their hats, bandanas and badges! One or both of my sons will entertain the children on Friday afternoon with a show in the afternoon. The kids will love, love, love it!
The following Friday our school will enjoy field day! Students should wear gold shirts as their class color, shorts and sneakers. Their gold gym uniform shirts will be perfect if you have them…otherwise, any gold shirt. Students should also bring a water bottle and an extra towel. Please administer sunscreen on your children in the morning before school. Our assigned time is 9:15 until 11:20 AM. Parents are still needed to volunteer to help with the stations. Info was in the Cougar News, but here is the link to the Sign Up Genius for the event:
https://www.signupgenius.com/go/30e0c4badab28aa8-nbvm2
Early this week I will assess the children on these popcorn words.
pretty
ride
saw
new
now
our
well
say
by
there
I will also add 4 new words to focus on for our last 2 weeks….that, well, by and there.
I will prepare some cards for the children to work on over the summer with a few more words we did not have time to fit in. If your child already knows these words, I won't send them home. Please continue to reinforce these words and all the words we have learned throughout the year. It's important for them to work on reading and spelling these words and this will give them a "leg up" to enter 1st grade. The children can "write stories" with their popcorn words, use them in sentences, write them on dry erase boards, etc. They also need to READ every day over the summer so they don't lose the gains they have made. The Raz kids should still be active during the summer until I start getting ready for the new school year.
Nothing makes me prouder then seeing the children show an interest in reading chapter books. I have some beginner chapter books in the classroom and the children are always welcome to take them home to read and then return.. We are still enjoying the "Junie B Jones" series…we are halfway through book 7. If we don't go outdoors, I have more time to read to the children. It is hard to cram everything in and of course, enjoy recess if the weather is nice. One of the children mentioned his mom reads him books from the Magic Tree House series, which is another great one. It is a second grade level book and perfect for the children to begin listening to. Get the children a special bookmark and read a little each night to them. It will make a world of difference
If you are looking for material to get for your children to read this summer, The Dr. Seuss beginner books would be a good starting point for most of them. A lot of them read the "Elephant and Pig" books independently and those are a class favorite. The Little Bear series books are great. I also have some "Nate the Great" chapter books which I'll bring in to show the children, but I would actually prefer that these be read with an adult present. I don't want the children to lose confidence if they are trying to read material that will overwhelm them. They may be at a level to read them but their minds may not be mature enough to read independently. They are used to reading shorter stories, so following a plot and deciphering dialogue will take some getting used to. I would start reading some easier chapter books to your children so they can get used to the flow of them.
If math comes easy to your child, you may want to get them some addition math facts flash cards or get an app on a device to start to learn and practice them. I would also get an app or workbook that your child can work on through the summer to practice all the skills they have mastered this year. This will make math so much easier for the children in the fall. We do a lot of "spontaneous math" throughout the day. "What is one more than 14?"; "What is one less than 9?" For more advanced students we ask, "what is 3 more than 103?' "What is 4 more than 81?" This is something you can do even when driving in the car.
Our graduation will take place on Monday, June 13th at 6:30 in the church. Please make sure your child is there no later than 6:15 PM. This will be followed by a reception in the gym of the school. Each child will have their own table with 6 chairs set up. If there additional family members, there will be chairs available to bring to the tables. Please send in any items you signed up for throughout the day on the 13th or drop off before the ceremony! The children will wear a white, felt hat for the program that they can keep. Please keep this is mind when you are styling their hair. They should wear their Sunday best…It is a big night!
We will work this week a lot on our graduation program for the next 9 days. I'm going to put the pieces of the puzzle all together! The children picked out some of their favorite sight word and math and counting songs that will be part of the program in addition to much more. I sent home an extra copy of the "Graduation Books" that the children will read as of our practice. I'm sure you have seen them. It has all the words to songs, prayers, etc. that they will be saying in addition to their "reading parts". I think these books will be a wonderful learning opportunity for the children as most of them know most of the words by heart. Now they will be seeing and reading them!
We'll also be finishing up our "End of the Year Books" which will be assembled in their binders. If I send their work home in a folder (no binder), it just means that I am working on the finishing touches of their memory binders.
I think that is it for now. I'll probably send a follow up e-mail as I'm sure I forgot some things.
I hope you have a blessed day and next two weeks!
Sandy Hamilton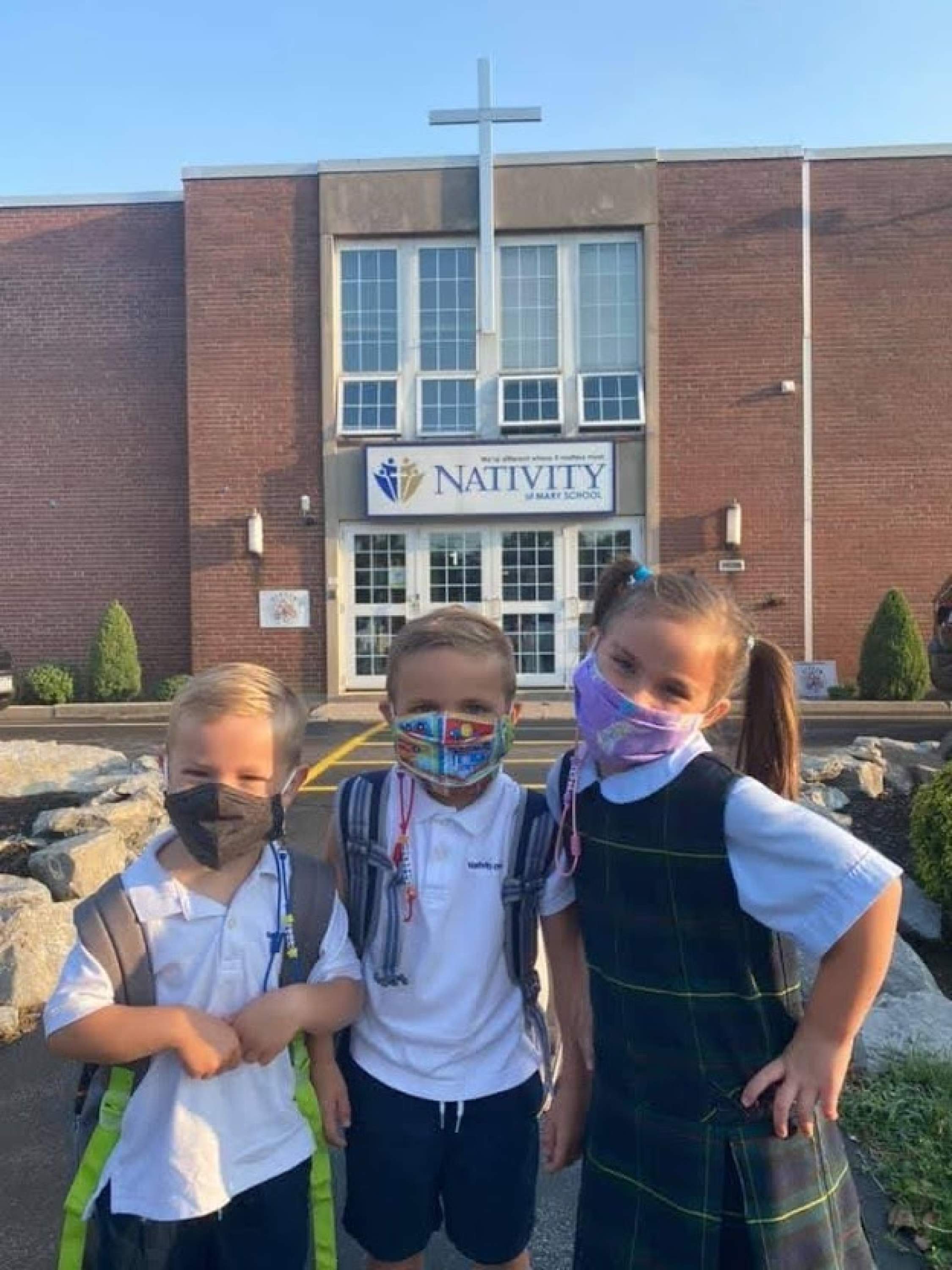 Welcome